Cancelling a delivery will allow you to recall a file from one or more stations that the spot has been delivered to. Cancelling a delivery is not the same as deleting your spot from Fig as your file will still be available for future deliveries.
Cancelling a delivery can be useful in the case of revisions or when a spot was delivered to a destination by mistake. In addition, If an ad campaign has been put on hiatus you are able to re-deliver a cancelled file at a future date without needing to re-upload your file to Fig.
How to cancel a delivery
After navigating to the Media Details of the spot you wish to cancel a delivery for click on the Cancel tab. This will populate a list of destinations that this spot has been delivered to.
Select the stations you would like to send a cancellation request with a brief comment on why this delivery is being cancelled; E.g. "spot has been revised", or "out of date". Continue through the confirmation screen to finish the cancellation.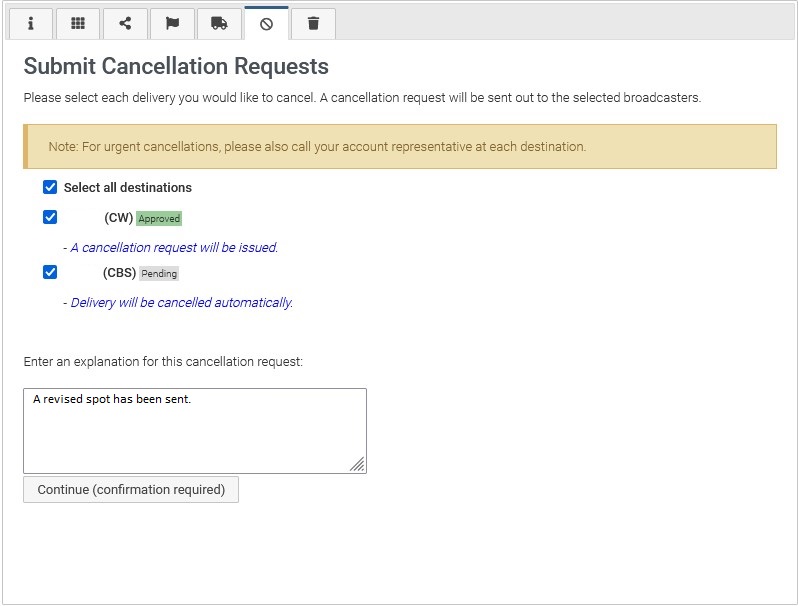 If a spot has already been confirmed as delivered, a cancellation request will be sent to the destination so they can purge this spot from their system. For deliveries that are still pending and haven't been completed, we will stop the delivery process and cancel it automatically.