Produce your video file
Before you upload your file, please make sure it was produced in the correct format and layout.
Also, make sure to visit our extensive list of tips and tutorials for the leading editing and transcoding applications.
Login to Fig
Using your user credentials, login in to your Fig account. If you do not have an account, please click on the link "Create Account" located under the login form.
Navigate to the file upload form
Click on the the upload icon to access the upload form: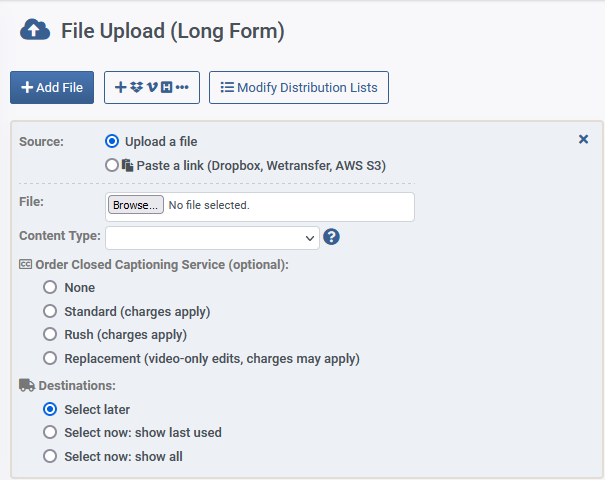 Select a file source
Upload a file
choose this option to upload a file from your local computer.
Paste a link
choose this option to enter the URL of a supported file location, including Dropbox, S3, FileAnywhere, and others. If your file storage/sharing platform is not yet supported, please contact your representative and we will do our best to make it work.
Choose Your Content Type
When uploading long form content there are two options you can select for your content:
Paid / Infomercial / Direct Response
Select this option if your file adheres to the typical paid program length duration of 28:30, 30:00, 58:30, 60:00, etc.
Syndicated / Multi-segment Show
Select this option if this show contains multiple segments or is a non standard length. E.g. 27:08
Enter the Spot Metadata
Under Media ID, enter a unique code used to identify this file (this is often called an ISCI Code or an AD-ID). Media IDs must contain only letters and numbers. Dashes and spaces are not allowed.
We recommend not exceeding 16 characters in length, although some stations may accept longer codes.

In case of a revision, we recommend appending "R1", "R2", etc. at the end of the original Media ID.
The title of the spot. This field can contain special characters.
The name of the advertiser or client.
The duration of the actual spot. Do not include the duration of any existing black or slate.

For Paid / Infomercial / Direct Response shows this field will have a drop down of the common paid program lengths for you to choose from.

For Syndicated / Multi-segment shows this field will require you to type in the duration of the program in an Hour:Minute:Second:Frames format.
The position at which the actual program starts.
If your spot does not contain initial slate and black, enter '0' seconds and '0' frames as the SOM.
If the commercial starts, for example, 7 seconds into the video, enter '7' seconds and '0' frames as the SOM.
For more information, please read about the
accepted video layouts
.
The disposition of audio channels in the file (defaults to "Stereo")
Read about
audio layouts
for files containing surround sound, no audio, etc.
Select Your Closed Captioning Services
If no captioning is needed you can select None. For more information please see our article on closed captioning.
For programs that already have captions embedded or if your file does not need to be captioned.
A captioning order will be sent to one of our closed caption services and once completed, the program will be fully captioned and delivered to its selected destinations.
Captioning can be ordered with a rush for when you need a quicker turnaround. Rush captions have an additional charge on top of the standard captions but will be completed quicker.
Replacement (video-only edits, charges may apply)
The replacement option should be selected for revised programs that have previously been captioned. If a replacement is ordered, we will import the existing captions from a previous version of the program.
Select one or more destination
If required, please select one or more destination for your file. This is where your file will be delivered after uploading or, if captioning was ordered, after captions are completed.
Upload the file
Click on the "Upload" button to start your upload. When the upload is complete, the file will be analyzed according to the station's validation rules and will be either accepted or rejected. If the file fails to upload you will be presented with a description of the error. Please see our pages on some common upload errors and possible solutions for them.
If you need to transfer additional files, click on the "Add File" button to open an additional upload form.